PARTNER WITH US!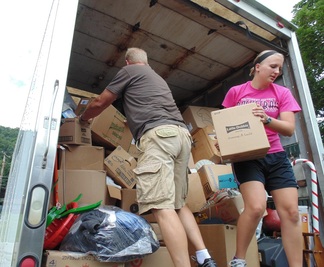 MONETARY DONATIONS:
Serving the needy requires monetary support. Because of the economy, we are finding it extremely difficult to meet the needs of our families here in Eastern Kentucky. Because of the high level of poverty, unemployment, and crisis situations, we are always looking for ways to help God's people who are struggling to make it day-to-day. Please find it within your heart to consider us a charity who is worthy of your financial support. All donations are tax deductable. Please give by clicking on the donate button on any page or mail your checks to:
Christian Social Services, Inc.
P.O. Box 147,1446 East Main St.
Morehead, KY 40351
TANGIBLE DONATIONS:
Our Thrift Store depends entirely on donations from the community and the many other friends and supporters of C. S. S. We accept vehicles, clothing, shoes, personal items, house wares, toys, etc. We are also always in need of food for our food pantry and household/cleaning items for our disaster/emergency/crisis supply resources. All donations are tax deductable.
VOLUNTEER:
A non-profit is only as successful as its volunteers. The simple act of offering your skills, dedication, and enthusiasm will positively impact the lives of others, as well as, your own.
Please contact us
to discuss the many ways that you could lend a helping hand to Christian Social Services.
---